Products
From industrial production of metalworking field, Romseh TOOLS performs the following types of products::
• Various parts after customer's documentation;
• accessories for machine-tools (auto tightening mandrel, running centers, cotters, accessories etc.);
• stamps and dies;
• spare parts for sub assembled machine-tools;
• clamping and control devices.
Services
Romseh TOOLS executes by its own workshop the folowing types of services from metalworking field:
thermal treatments
• hardening
• tempering
• annealing
thermo-chemical treatments
• cementation
metallic coatings
• browning
• hard chrome
• cadmium
• galvanizing
free forging – max. 7 kg
Certificates
Romseh TOOLS company is certified by the Quality Management System EN ISO 9001:2008 issued by TUV Austria Cert in 2010.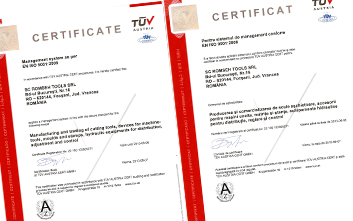 Technology
Romseh TOOLS works with new technology for making products and services in the metalworking industry.
The company is equipped with:
• Universal machine-tools (lathes, milling machines, grinding machines, erosion machines etc.);
• CNC machines (centres, lathes, grinding machines);
• Equipments for thermal and thermo-chemical treatments;
• Equipments for metal coatings;
• Technical quality control laboratory (universal and special NCAs with resolution up to 0.001 mm);